I recently cast for my short film memorama, and learned some interesting things I wanted to share. It turns out that a few of the actors I cast are SAG/Aftra affiliates, and this can present a problem for a non-SAG film.
As a newbie in any type of union productions, I relied on advice from my experienced AD, and we are in the process of becoming a SAG approved production. This is a lot easier nowadays then you think, and certainly worth the effort to do so for both your cast, and you.
Below is an outline of the process on how I made the decision and filed to become a SAG approved film.
---
Step 1: Is it worth it?
---
This is a pretty specific question. Believe me, I have certainly made more then a few productions just running and gunning naive to the ways of the unions. But the truth is, if you strive to create professional level work with top talent, this is a necessary step anyway, so why not get in the habit of doing things the right way.
On top of that, it's definitely worth it for many other reasons.
Form a solid relationship with the SAG reps
Learn the different types of contracts SAG offers and its process
Work with the best talent
Protect your SAG affiliated cast members (even if they're willing to risk it)
Protect your reputation in case you have success in the industry
That last reason is key for me. We all have a goal of 'grabbing the world's attention' with any film we make. So you don't want to shoot yourself in the foot that if you become successful, and used a SAG actor without a waiver, you now have to deal with that issue in the future. Better to prepare for success by doing things right from the jump in my mind. Plus, it's pretty damn easy to do nowadays too.
---
Step 2: Where to start.
---
The first place to start for becoming a SAG approved production is on their website at the production center. Here is all the information you will need to make the appropriate decision and get started. It is an online process, so that makes it super easy to complete.
Since I was doing a short film, I will go over the different type of contracts I had to choose between. You will notice on the left, there are different icons aligned vertically. When you scroll over them, they read in order:
Theatrical
Television
Commercial
New Media
Interactive
Corporate
Each one of these has choices of agreements. For example, the 'theatrical' section has different agreements for a student film, a short film, and Ultra low budget, Modified low budget, Low budget, and a Theatrical feature.
Since I was producing a short film, there were two main choices for me: Short Film & New Media contracts.
---
Step 3: Choosing an agreement
---
The difference is pretty simple. The Short Film agreement was if I wanted to make a film that would be viewed publicly in theaters at film festivals, etc. The New Media agreement was if I was going to premiere online instead.
I was planning on doing both, so I called the office. After speaking with various reps in NY and LA, I was advised that I should apply for the contract that I am going to initially need. So, since I was planning on first releasing the film on the internet, the New Media contract would cover me. If I wanted to go to film festivals after that, that was fine too, so long as I contacted them to let them know and adjusted the agreement.
Now that I had an agreement, the next step was filing the signatory documents online.
---
Step 4: Filing Online
---
I found contacting the SAG office and introducing myself to the reps quite helpful. My AD suggested it, and it worked out great. They answered any and all my questions, were in no way trying to make my life difficult. In fact, the whole process is pretty easy. Here's how it works for the New Media agreement.
Near the top right of the page, highlighted in a yellow box, are the words 'SIGN ONLINE'.
---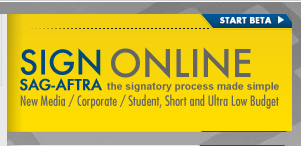 ---
Note that you can only apply online currently for a student, short, new media, or ultra low budget agreement. Assuming one of these is for you, click this button to bring you to the 'public beta release' home for signing up online. Read the intro, and click the button to continue at the bottom.
From here, you will need to re-sign into the website. If you are not a member, you can easily register like I did. Sign in and it will bring you to your personal home page. This is where any and all agreements are listed. Click on the button 'New Production' to start your agreement process.
---
Step 5: Gathering Your Paperwork
---
The process is pretty self explanatory, and step by step from here on out. However, there are a few things you will need. For the New Media agreement, these are the documents/information I had to be prepared with.
Pre Production Cast List
Detailed Budget List
A short description of the film.
A copy of the Script, treatment, or outline.
Recorded Corporation Documents (if you are a legal company)
Let's look at the samples and information need for the first two items.
---
Pre Production Cast List
---
You can
download the sample document here by right clicking on this link
. Here is the info you will need to fill it out:
Names of all the principal characters
Last 4 digits of your actor's social
# of Speaking roles
# of Background actors
Actors contact info, days/weeks worked, base salary, & total earnings.
Location of the production
Estimated Shooting Dates
# of Estimated Production Days
# of Rehearsals needed
Total # of Stunt Performers (daily & weekly)
Stunt Coordinator (if you have one)
---
Detailed Budget List
---
To make it easy, I've included a blank example of a budget list my AD sent me. At the very least, it's a good place to start. Here is a zip file including the different formats I have exported it in (PDF, Excel, & Numbers). Download the zip file by right clicking on this link:
---
Step 6: Celebration Time!
---
Congrats! Once you have finished the process and submitted all the paperwork, you will be assigned a rep for your film shortly thereafter. From there the rep will work with you, or your AD/Producer to make sure all the paperwork is correct, the proper contracts are signed, and the process is executed correctly.
Then you can pump out your chest and run around your backyard with your shirt off yelling out at the top of your lungs that you are producing an official SAG production.
On second thought, you may want to skip this. My neighbors called the cops on me. Luckily one of them was an aspiring actor and he's now the lead in my short. I've completely made this up, except for the fact I really did want to go run around with my shirt off. That's how proud I was to be official. With a little effort, you can be too.
---
If you found this content valuable, please follow me on twitter or like us on facebook to receive future updates!