Before the horror in Boston took over my conscience, I was extremely excited about the announcement of the 'big brother' to the H4N, the new H6 handy recorder from zoom.
This is a step up from my preferred recording device. While the H4N is great for simple stuff, it can be quite limiting when things get complicated. However, the new H6 builds off of the H4N to create a portable audio recording system, with an optional mic, up to 4 XLR inputs, and more.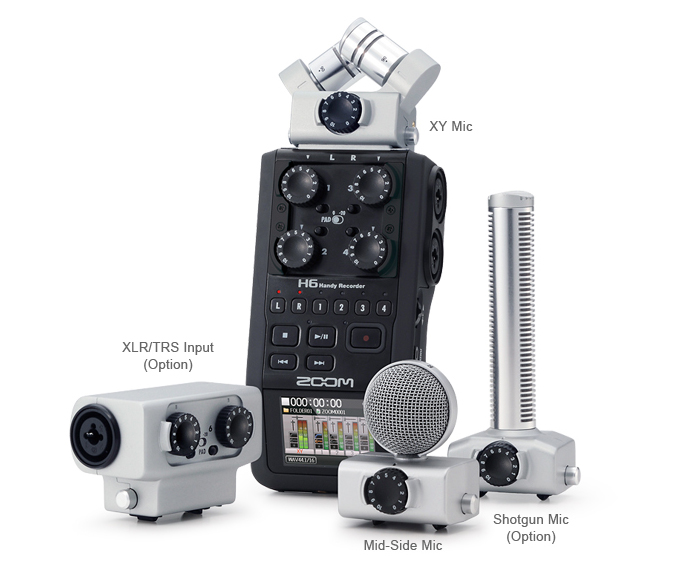 Check out some specs from ZOOM's announcement:
The world's first handy recorder with interchangeable mic system
XY mics capture remarkable stereo depth and clarity
Mid-side mics provide continuously variable stereo width
Four XLR/TRS inputs for external mic/line connections
Up to six channels of simultaneous recording
High-definition audio of up to 24-bit/96kHz
6-in/2-out USB audio interface
Over 20 hours of operation with 4 AA batteries
Supports SDXC memory cards up to 128GB
Optional Shotgun mic and external XLR/TRS inputs available
---
I can't wait to check this out. I mean, how convenient is it to have an interchangeable mic system, turning your h6 into a mountable boom for your rig. Even Ryan Koo of NoFilmSchool, not a huge fan of the H4N's limitations, seemed impressed with it's 'big brother'.
One of my biggest complaints about the H4N is that it's extremely inefficient to change levels, especially while recording, due to the small little plus and minus buttons on the side of the device. With the H6, changing levels looks to be both quick and silent, something which I'm sure will make everyone from the boom operator to the post production sound team very happy.
This addition is a big boost to the DSLR community. I mean at this point, I can pack up a mini slider from Edelkrone, a portable recording system with interchangeable mics, my GH3, manfrotto sticks, a couple of lenses from Voigtlander and Noktor SLR Magic, and I'm good to go anywhere. A decade ago, I would have needed a van for all this gear.
Awesome stuff. Check out this video presentation from Musikmesse 2013.
---
---
Related Links:
---
If you found this content valuable, please follow me on twitter or like us on facebook to receive future updates!