I've just read through all the news, and at a time when game changing technology seems to comes out every week, this may top them all.
If you have not heard, the new Metabones Speed Booster is an adapter that makes your lenses faster, wider, sharper and just plain better optically. Technically, it is a piece of glass that sits on what looks to be a normal lens adapter. However, this piece of glass allows a Super 35 sized sensor to produce a full frame image while improving the image, as well as the speed of the lens. EOS HD's breakdown explains it perfectly:
The glass in the new Metabones EOS/E-mount Speed Booster adapter is an optical reducer. This glass is already common on some astro-telescope camera adapters to shrink the telescope's image to fit a digital camera body. The side affect of this is that it is actually brighter, like in the way a projection beam gets brighter as you move the projection lens closer to the wall. The image gets smaller and more concentrated.
If you're shaking your head side to side like 'okay, where's the catch?', you are going to be dissappointed. By all accounts, there doesn't seem to be one. Here's James Miller explaining how this is possible on Phillip Bloom's blog…
In essence, it's an optical adapter that attaches to the E mount of a Sony NEX camera (Super 35 sensor) and then to a full frame SLR lens. The Metabones 'Speed Booster' is a 0.71 x focal reducer, that will effectively turn your full frame 50mm f/1.8 lens into a 35mm f/1.2 lens. Note, doing so (as a guide) will increase the aperture of that lens by one stop. Your Sony NEX Super 35 E-Mount will effectively have near full frame coverage on a full-frame lens. It also serves 'double-duty' as a lens mount adapter, from Canon EF lens (but not EF-S) to Sony NEX, with auto-aperture and image stabilisation.
---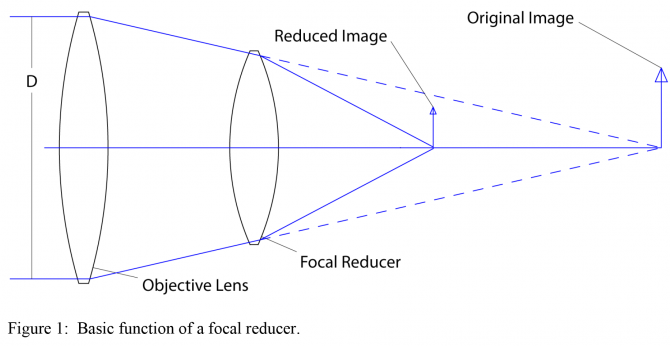 ---
So basically, this will make spending the money for a full frame sensor unnecessary. I mean, you could argue (and I believe James Miller does) that the Speed Booster is actually BETTER then just a full frame sensor.
All other aberrations, including field curvature, coma, astigmatism, distortion, and chromatic aberration are also well-corrected." Wow that is a big claim.
Apparently, this has become possible by some recent changes to the way cameras are made, mostly the shortening of the flange distance in DSLR and mirrorless cameras. Check out this lens test for visual proof…
---
Metabones Speed Booster lens test from James Miller on Vimeo.
---
Micro 4/3
---
Now, if you have a GH3 or Black Magic with the MFT mount, you're mind is racing right now just like mine. From all accounts, here is what I found about a possible Micro 4/3 adapter in the future.
Phillip Bloom says it is definitely technically possible…
If it really is as good as it seems, this really is going to be an absolutely essential piece of kit for anyone with an E-Mount camera and Micro Four thirds cameras. If the upcoming Blackmagic M43 will have electronics on it and won't be passive, then this will be the essential for that camera and will actually make it way more appealing than the Canon EF version and will solve so many issues we have with the sensor size. It's not actually quoted on the white paper, but theoretically this adaptor "could" get those lenses to behave more like they were on a S35 sensor than the 2.3x crop, which to be honest would be fantastic.
You know this is something special when icons like James Miller and Phillip Bloom are wowed. This is obviously going to be an essential part of everybody's kit, and if I had a S35 sized sensor, I would be laying down the cash right now.
---
Where, When & How
---
According to
Bnaro Cinematography
, the adapter will most likely go on sale January 14th, and be around $600. However, on the
Metabones website
, the prices range from $399-$599, and you can purchase them NOW.
---
Related Links
Here is the best sources of information for this breaking news….
---
If you found this content valuable, please follow me on twitter or like us on facebook to receive future updates!