Disclaimer: I do not receive money, or any other compensation or incentive from this or any of the companies who's products I review. I simply share my thoughts on the stuff I use.
---
Whether shooting a narrative film, or a live event, or even still photos, there is one thing that is essential to making your life easier: Correct white balance.
Proper white balance is essential to getting the best quality shots. However during the course of a hectic shooting schedule, or say, a live event, setting the white balance can become an afterthought. Or, even worse, it can become a pain in the ass. Everything is just about ready to go, and you can't find where you put that white or grey card. How many times has that happened?
Well, I recently found this minor addition to my kit that has made a world of difference.
The Vello White Balance Card Set for Digital Photography is an excellent tool for achieving perfect color balance in your photos. You can use it under any lighting condition, both pre- and post-production. This set includes an 18% grey card, a white card and a black card, together with a detachable lanyard that will keep it handy at all times. An easy-to-follow user's guide is included.
Available at B&H for only $9.95, this small set features a white, grey, and black card about the size of a business card. They hang on the 'detachable lanyard', which make them easy to carry, find, and use.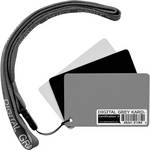 They are only the size of a business card, so if your camera requires the entire screen to be filled to white balance, they may not be right for you. But if you are rocking a DSLR, or a mirrorless camera, these are perfect. I keep them in my pocket, or around my neck, at all times. When necessary, it takes me about 10-15 seconds to quickly white balance the camera.
Also, another cool trick is I just hold all three cards in front of the camera right before a take begins. This gives me the ability in post to color pick a black, grey, and white for any scene.
The cards are sturdy, and well made. Just don't try to use them to unscrew your tripod plate like I moronically did after losing my coin on the last shoot.
If you do not use a grey or black card, you can easily remove them, and carry just the white. Small, compact, and cheap, this saves me hours of post work, and helps me capture the best quality in-camera shot.
---
Links/Products Mentioned & Related Posts
---
---
If you found this content valuable, please follow me on twitter or like us on facebook to receive future updates!